Say goodbye to red, dry, itchy skin and hello to calm, healthy, happy skin. Try SBB™ today!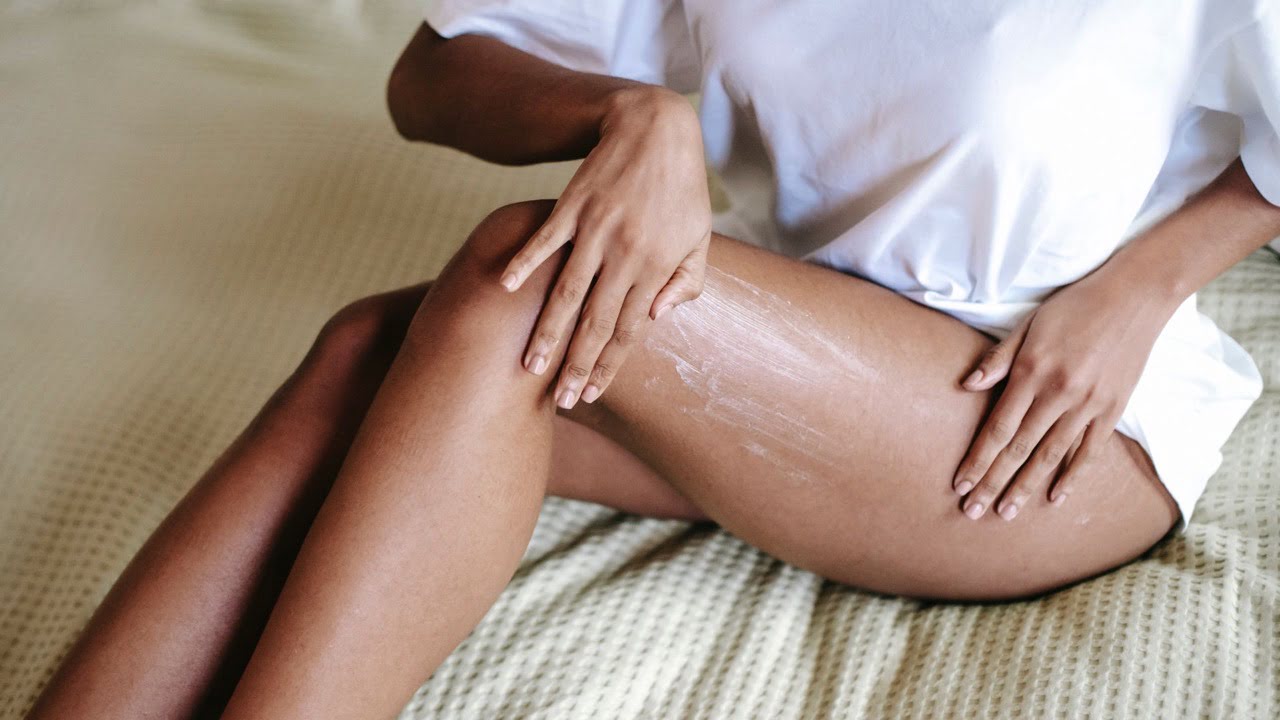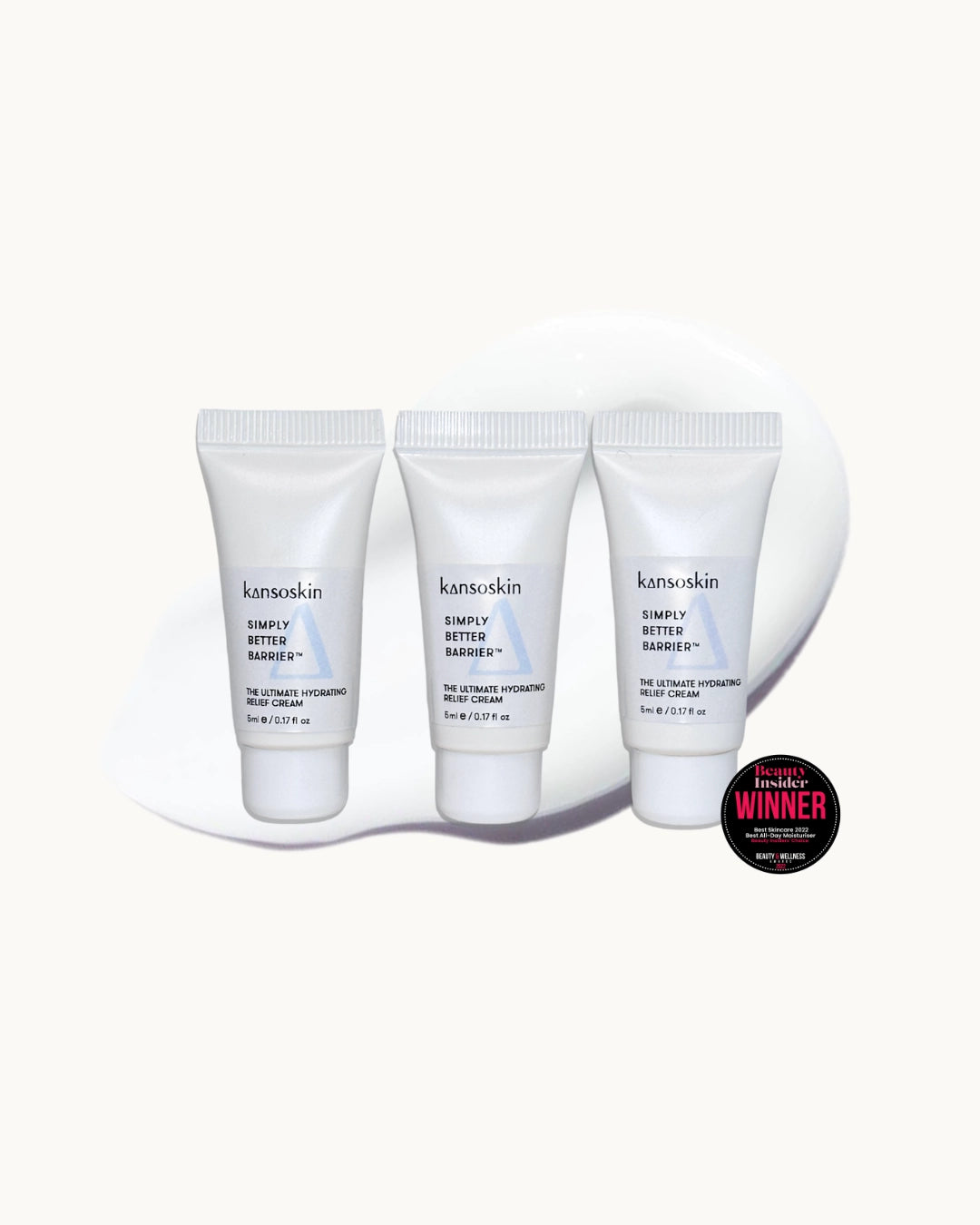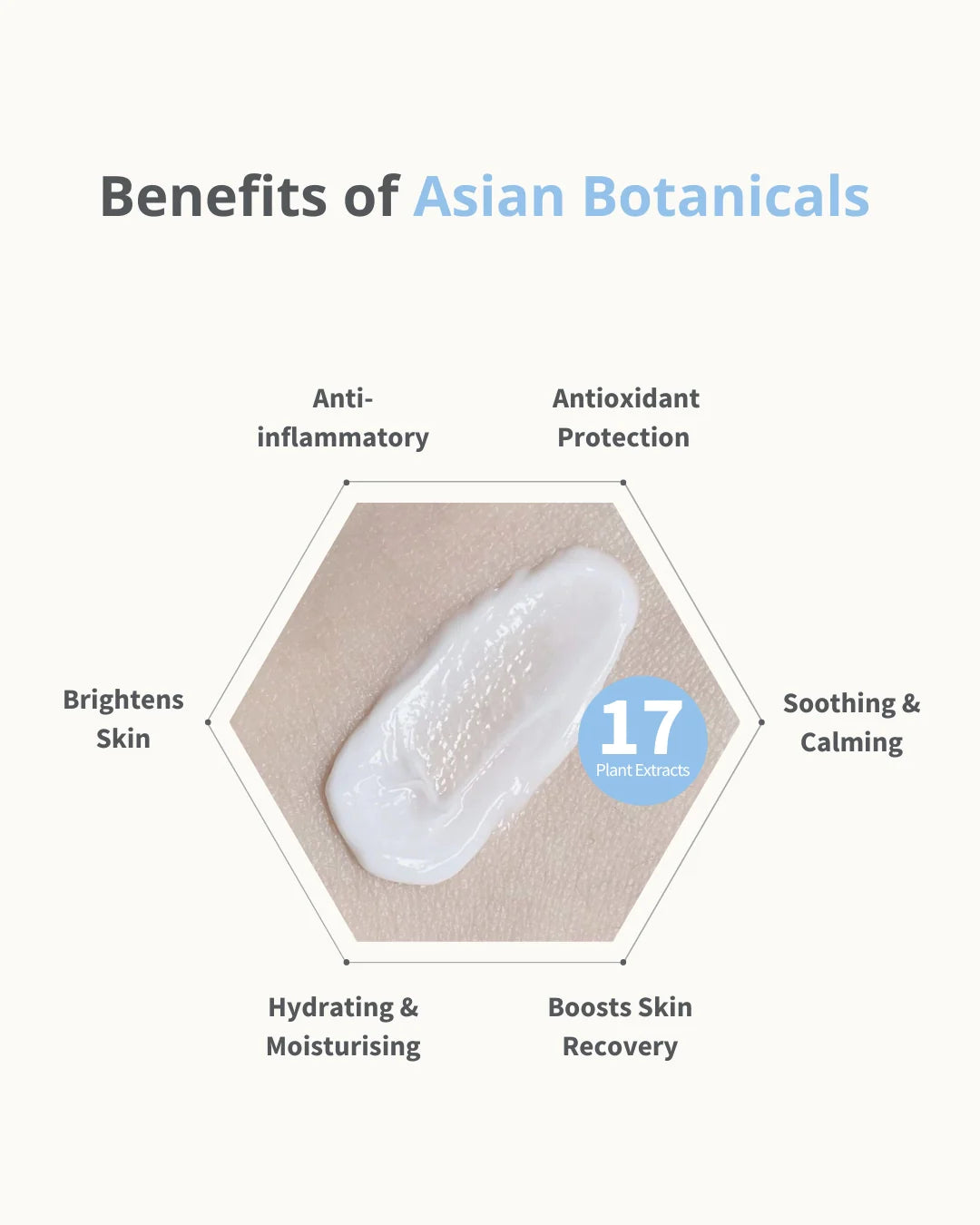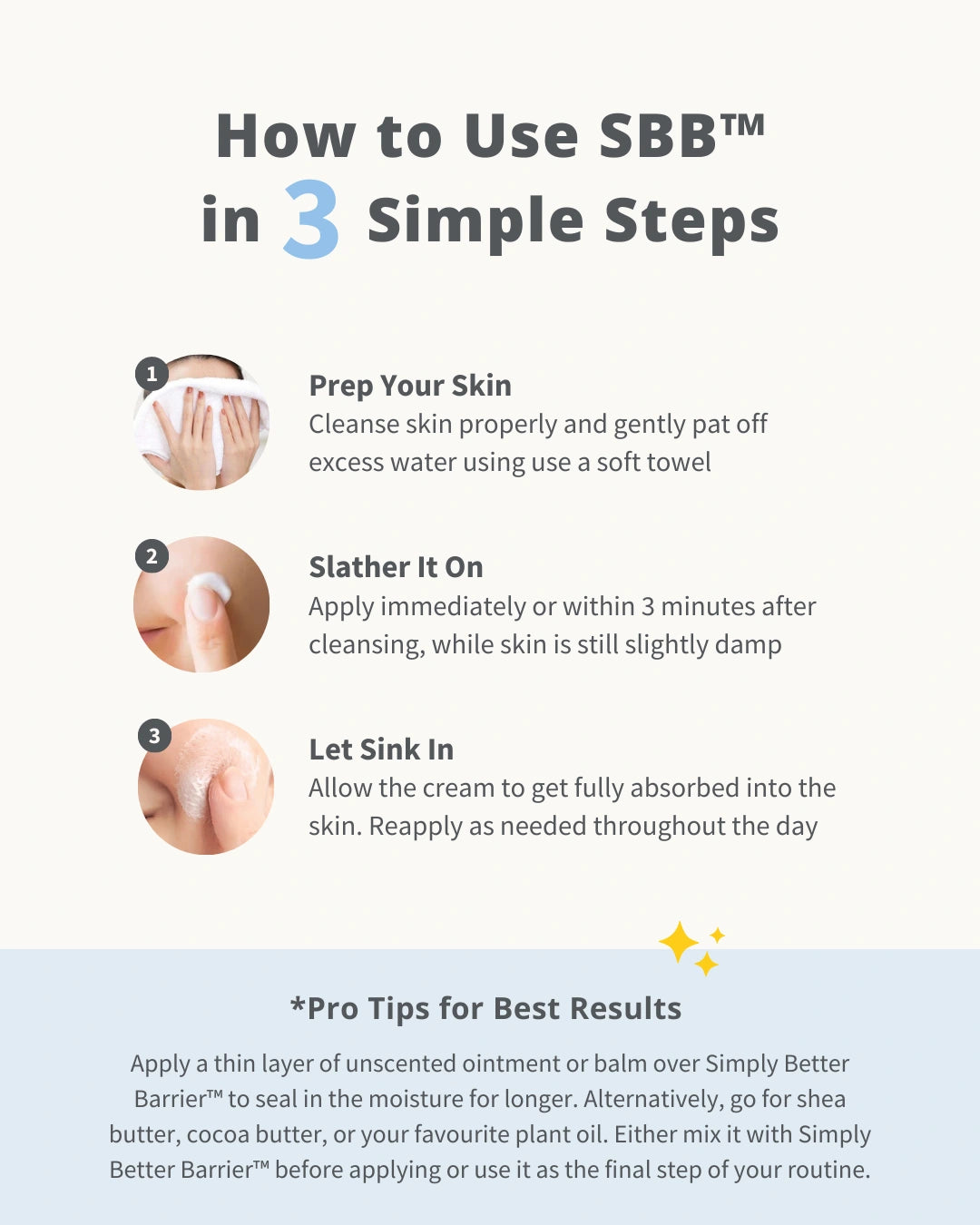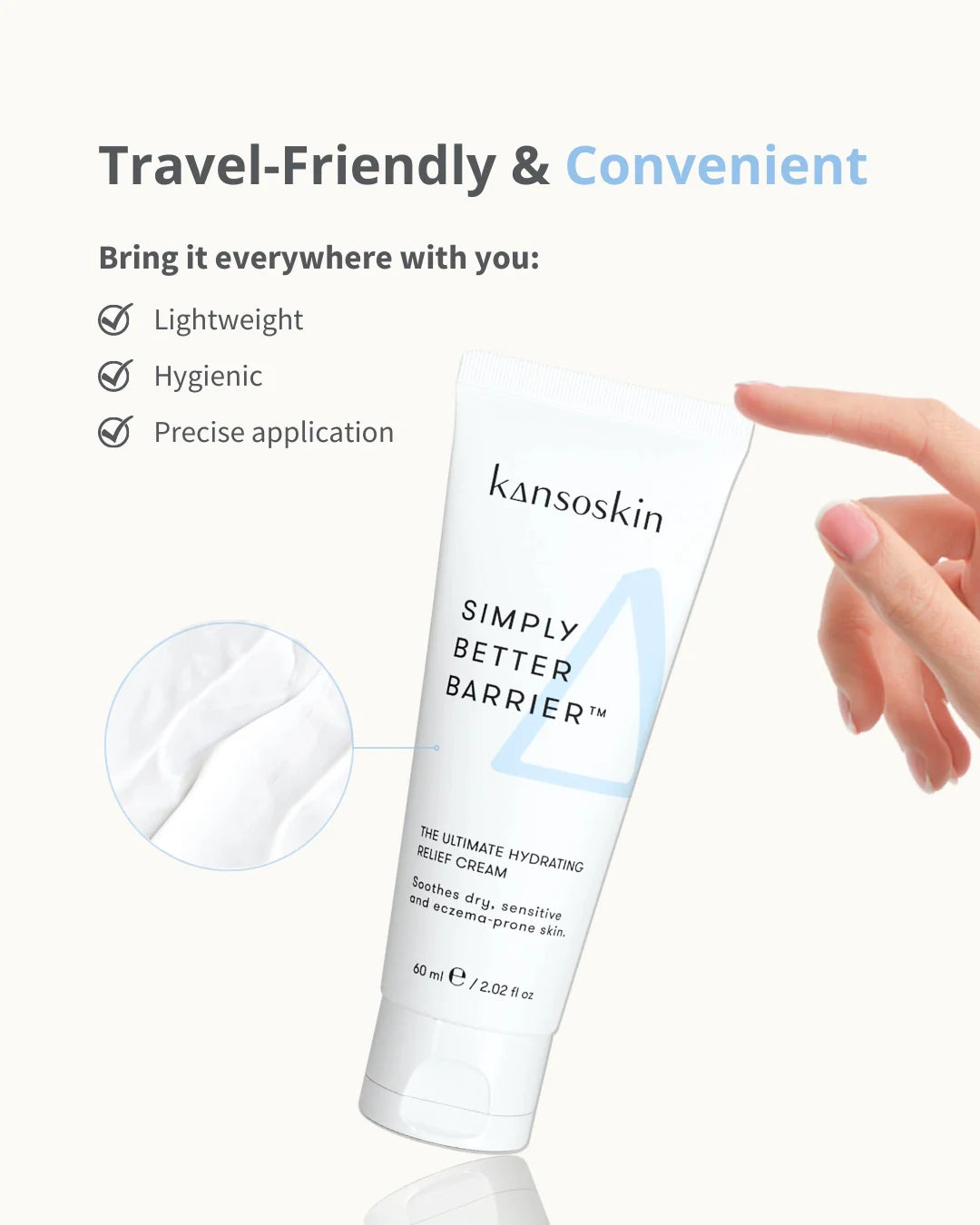 Simply Better Barrier™ 3-Piece Trial Pack
We understand the importance of trying a product before making a full-size commitment. Sample the relief of our award-winning daily repair moisturiser with this exclusive SBB™ 3-piece trial pack.

Note: Currently available in Singapore only. Trial pack is final sale and not eligible for promotions or discounts. Price listed includes handling and local postage.
A shield for your skin, this award-winning repairing cream moisturiser provides deep hydration and relief. It delivers a long-lasting surge of moisture to your skin while calming any unwanted redness and irritation. Designed for daily use, it applies and absorbs beautifully to keep your skin feeling supple and comfortable all day. 


Suitable for use on the face, hands, and body
For all skin types, including eczema, rosacea, dry, itchy, and sensitive skin
Safe during pregnancy and breastfeeding, and for babies from 3 months old
pH 5.5 ± 0.5
Steroid-free (non-steroidal) and free of fragrances, essential oils, and dyes
Vegan-friendly
60mL
Formulated in Singapore, made in Korea
Apply evenly to the skin to maintain healthy, well-nourished skin. For optimal results, apply immediately or within 3 minutes after cleansing, while the skin is still slightly damp. Reapply as needed throughout the day.

Simply Better Barrier™ can be used safely on the face, hands, and body. As everyone's skin is unique, it's important to patch test any new products (one product at a time) before introducing them into your routine. If irritation occurs, discontinue use. For external use only.

Pro-Tip
In dry conditions, after Simply Better Barrier™ is fully absorbed, apply a thin layer of unscented balm or ointment to seal in the goodness for longer. We recommend using Vaseline® Healing Jelly Original.

Alternatively, if you prefer plant-based options, you can mix shea butter, cocoa butter, or jojoba oil with Simply Better Barrier™ before applying, or use it as the last step by spreading it on your palms and gently patting it in.
PPA3 Balancing Complex™
A synergistic blend of 17 antioxidant-rich Asian botanicals, along with pre and probiotics, balance the skin's natural microbiome and reduce signs of sensitivity.

Superstar Hydrators
Ceramides, glycerin, snow mushroom, chicory root, and natto gum extract fortify the skin's barrier and boosts moisture-retaining abilities to quench thirsty, dry and dehydrated skin

Cellular Energiser
Found naturally in the body, Adenosine is an important cell-signaling ingredient that contains wound healing properties to soothe and restore the skin
Water/Aqua/Eau, Dipropylene Glycol, Cetearyl Alcohol, Squalane, Caprylic/Capric Triglyceride, 1,2-Hexanediol, Glyceryl Stearate SE, Cetearyl Glucoside, Glycerin, Simmondsia Chinensis (Jojoba) Seed Oil, Helianthus Annuus (Sunflower) Seed Oil, Sorbitan Olivate, Ammonium Acryloyldimethyltaurate/VP Copolymer, Xylitol, Glyceryl Glucoside, Butyrospermum Parkii (Shea) Butter, Allantoin, P-Anisic Acid, Hydrogenated Lecithin, Adenosine, Stearic acid, Chrysanthemum Indicum Flower Extract, Sophora Flavescens Root Extract, Lactobacillus Ferment, Paeonia Suffruticosa Root Extract, Cnidium Monnieri Fruit Extract, Bifida Ferment Lysate, Ophiopogon Japonicus Root Extract, Portulaca Oleracea (Purslane) Extract, Arctium Lappa (Burdock) Root Extract, Paeonia Lactiflora (Peony) Root Extract, Cichorium Intybus (Chicory) Root Extract, Astragalus Membranaceus Root Extract, Tremella Fuciformis Sporocarp (Snow Mushroom) Extract, Beta-Glucan, Arginine, Ceramide NP, Camellia Sinensis (Green Tea) Leaf Extract, Bletilla Striata Root Extract, Tocopherol, Cardiospermum Halicacabum Seed Extract, Polygonum Cuspidatum (Japanese Knotweed) Root Extract, Polyglutamic Acid, Ceramide NS, Cholesterol, Phytosphingosine, Ceramide AS, Ceramide AP, Madecassoside, Ceramide EOP
Singapore Orders
The listed price includes handling and local postage (non-tracking). Please note that our trial pack is final sale and is not eligible for promotions or discounts.

International Orders
Trial pack is currently available in Singapore only.

Note: Trial packs are not returnable or refundable.
Real People, Real Results
Immediately
Skin is infused with moisture, providing relief from dryness, itching, and discomfort.

2-4 Weeks+
Skin barrier is strengthened, enhancing moisture retention and visibly improve redness, scaling, and overall condition.

With Prolonged Use
Skin becomes more resilient and less susceptible to irritants, reducing the frequency and severity of flare-ups and reactions.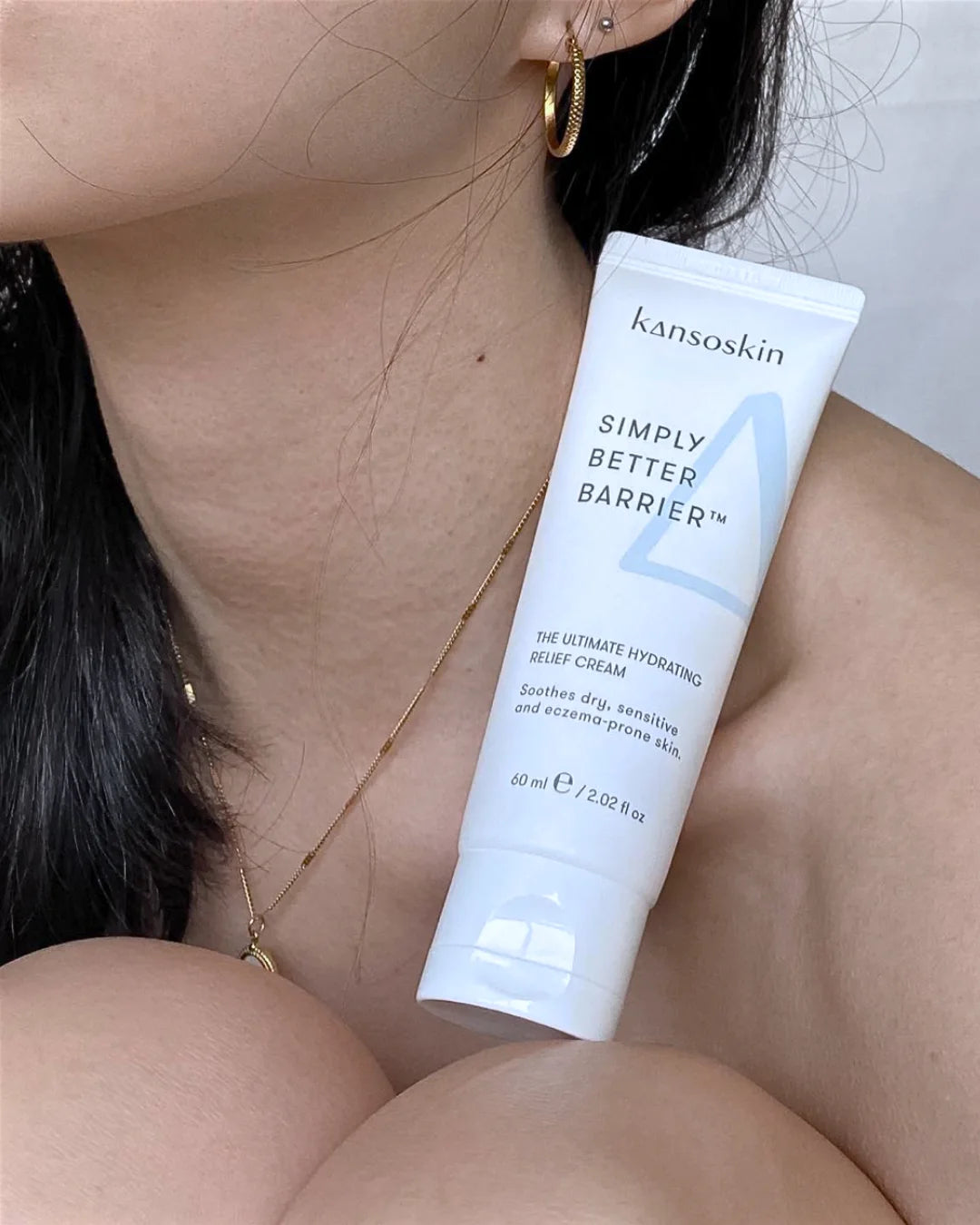 Highly Versatile and Fits Easily Into Your Routine
Daily moisturiser
Eczema and rosacea relief
Post-procedure recovery (e.g. after chemical peels, lasers, tattooing, micro-needling, etc.)
Retinization and Isotretinoin support (reduce discomfort and help skin tolerate retinoid use)
Makeup base
Tinted moisturiser (mix with foundation)
Lip care (keep lips soft and protected)
Cuticle care (keep nails and cuticles healthy)
Sunburn soother (support with healing)
Questions? We've got you covered.
The terms 'clean,' 'natural,' and 'chemical-free' can be misleading as they lack standardised definitions and scientific accuracy.
At Kansoskin, we approach product formulation with careful consideration for each ingredient's merits and safety profiles.

It's important to understand that all matter, whether natural or synthetic, is made up of chemicals.
Natural ingredients are not inherently safe, and synthetic ingredients are not automatically harmful.
The safety and effectiveness of skincare products depend on many factors, including the specific ingredients used, their concentrations, and the overall formulation.

We prioritise using high-quality ingredients, including those derived from nature and synthetic compounds when they offer benefits like enhanced stability, efficacy, and sustainability.
Our focus is on creating safe formulations that respect the skin's needs and deliver optimal results.

Our products are produced under GMP-certified facilities that follow strict quality control measures and adhere to Good Manufacturing Practices to maintain product safety and stability.
We also conduct rigorous testing in accordance with regulatory guidelines to meet the highest standards of safety and efficacy.

Transparency is important to us. If you have any specific concerns or questions about our products, we are here to address them and provide you all the information you need to make informed choices.

When evaluating the safety and effectiveness of skincare products, it's important to consider evidence-based claims, scientific research, and regulatory compliance rather than relying solely on marketing terms.
Yes. Our products are formulated to address specific skin concerns like eczema, rosacea, dryness, dehydration, and sensitivity. However, they are not limited to only those with compromised skin conditions.
Our formulations are compatible with all skin types, including eczema-prone, atopic, and sensitive skin.
We consciously avoid using common irritating and sensitising ingredients like fragrances, essential oils, and dyes, to minimise the risk of flare-ups and adverse skin reactions.

At Kansoskin, we take pride in being a gender-neutral brand, crafting products that work effectively for everyone, regardless of gender.
We believe in the power of inclusivity, and our skin solutions are designed to cater to the diverse needs of our community.

Furthermore, our products have undergone thorough testing, proving to be gentle and effective. They are suitable for use during pregnancy, breastfeeding, and are safe for children and babies from 3 months old.
For transparency and easy reference, you can find our full ingredients list on our website and product packaging.

Note: Everyone's skin is unique, and reactions may vary. We recommend introducing new skincare products one at a time and performing a patch test before full application.
If you have any concerns, we advise consulting with your healthcare provider before incorporating new skincare products into your routine.
No, we do not conduct animal testing on our products. As a cruelty-free brand, we prioritise the well-being of animals and ensure the safety and efficacy of our products through testing on human volunteers.

Additionally, all of our products are vegan-friendly. We do not use any animal-derived ingredients or by-products in our formulations, making them suitable for those following a vegan lifestyle.

When it comes to gluten sensitivity or a preference for gluten-free skincare, rest assured that our formulations do not contain ingredients derived from wheat or other gluten-containing sources, even though gluten is not typically absorbed topically through the skin.
However, please be aware that while we maintain strict manufacturing processes to minimise cross-contamination, our products are not produced in a dedicated gluten-free facility.
As a precaution, if you have severe gluten allergies or sensitivities, we recommend consulting with your healthcare provider or performing a patch test before using our products.

Regarding halal certification, it's important to note that while Kansoskin is not halal-certified, our products do not contain animal-derived ingredients or drying alcohols. We utilise fatty alcohols such as cetearyl alcohol, which are generally considered permissible.

We are committed to providing products that align with various dietary and lifestyle preferences, ensuring that you can use our products with peace of mind.
Our products are formulated in Singapore and manufactured in South Korea.
Being located in Asia allows us to tap into the advancements in cosmetic science and technology, as well as access to a wide range of high quality Asian botanicals that offer unique benefits for the skin.

Regarding the shelf life of our products, when sealed and unopened, they can be safely used for up to 36 months from the date of manufacture.
Once opened, we recommend using the products within 12 months to ensure their freshness and effectiveness.

You can find the product expiry date indicated on the packaging of each product.
To maintain the quality and maximise the shelf life of our skincare products, we recommend storing them in a cool, dry place away from direct sunlight. Please also make sure the packaging is tightly closed after each use.

Note: External factors such as air exposure, sunlight, humidity, and extreme temperatures can potentially impact the stability and performance of skincare formulations.
We understand the challenges of shopping for eczema and sensitive skin, which is why we offer a 30-day money-back guarantee* on your order.
This allows you to try your Kansoskin products for up to 30 days, and if they are not suitable, you can return them for a full refund (minus shipping and handling).

*Please refer to our return policy for more details.

Note: This guarantee does not apply to any orders made from non-Kansoskin websites.
We do not condone the unauthorised resale of our products, and cannot guarantee the authenticity, safety, quality, or effectiveness of products sold through unauthorised retailers, resellers, distributors, or third parties.
If you are in Singapore, you purchase Kansoskin products directly from our website.
Our products are also available on popular e-commerce platforms such as Shopee, Lazada, Amazon.sg, and on TikTok.

For customers in the United States, our products can be found on Amazon.com.

If you are located in the United States or other parts of the world, you can also shop for our products directly on our website.

For our friends in the Philippines, we are pleased to share that our products are available through our retail partner, thecollective.ph.

As for future product launches, we at Kansoskin prioritise quality over quantity.
We believe in creating meaningful formulations that support the skin's natural function and provide a positive experience. We will introduce new products when they meet our high standards and criteria.

Currently, our team is actively engaged in research and development for exciting new products.
To stay updated on our latest releases and announcements, we invite you to follow us on our social media channels.

If you have any specific product suggestions or requests, please don't hesitate to reach out to us via direct message on Instagram @kansoskin or email us at hello@kansoskin.com.
We value your feedback and input as we continue to innovate and expand our product offerings.