Refer to our recycling guide for detailed instructions on how to recycle your Kansoskin products.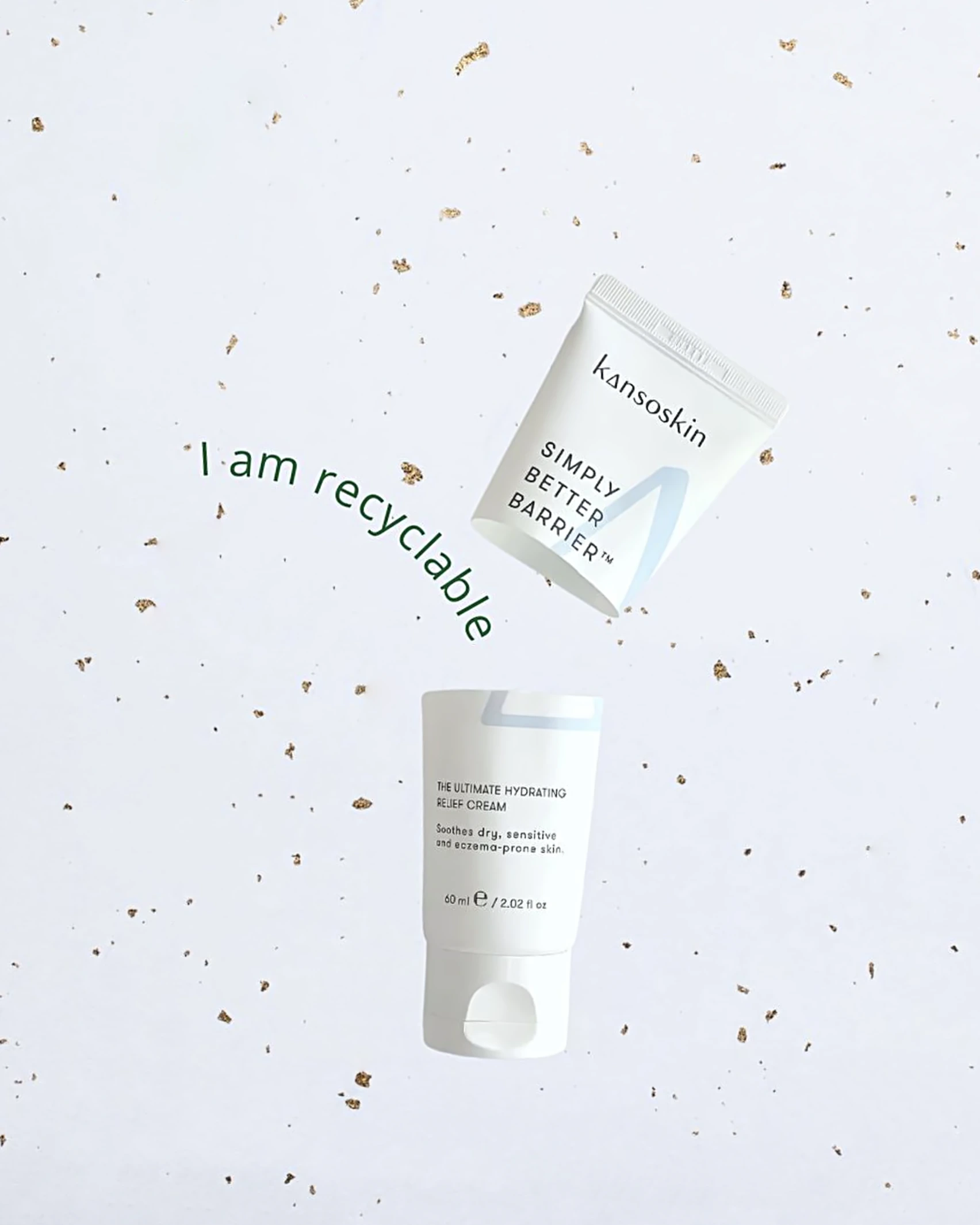 How to Recycle Simply Better Barrier™

Step 1 – Separate and Rinse
Begin by separating the flip cap from the tube and rinse both components thoroughly.


Step 2 – Check Recycling Codes
The tube is made of Low-Density Polyethylene (LDPE) plastic, identified by the recycling code 4 (LDPE 4), while the cap is made of Polypropylene (PP) plastic, identified by the recycling code 5 (PP 5). LDPE 4 and PP 5 plastics are generally recyclable.
Step 3 – Verify Recycling Options
Recycling procedures vary based on your location and available facilities. To find the right recycling options in your area, we recommend contacting your local recycling centre or waste management facility. They can provide guidance on proper disposal and recycling for these materials.


Step 4 – Get Recycling
If your local recycling centre or waste management facility accepts LDPE 4 and PP 5, it's time to get recycling! Simply place the separated tube and cap into your recycling bin.
Sustainability
Sustainable development lies at the heart of everything we do. We're committed to aligning our efforts with the United Nations' 17 Sustainable Development Goals (SDGs), and we're excited to share every step of our journey with you!

We view sustainability as a long-term commitment and reducing waste is a crucial step to minimising our environmental impact.
Currently, we focus on producing meaningful products responsibly, which allows us to reduce our carbon footprint and avoid overproduction.
Additionally, we actively encourage our customers to practice mindful shopping – buy only what you truly need, when you need it. This way, we can reduce excessive consumption and unnecessary stockpiling of products.

To be honest, we don't have all the answers on how to achieve complete sustainability.
Sustainability is a complex concept, and every form of consumption leaves a footprint. As a small company, we are dedicated to doing our best and continuously learning and improving.

Though there's still a long way to go, we remain committed to making a positive impact.
We invite you to join us our sustainability journey as we continue to navigate the world more responsibly.

Achieving complete sustainability is a challenging task and we welcome the valuable insights and suggestions of sustainability professionals.
Please feel free to reach out to us at hello@kansoskin.com, we would love to hear from you!
Yes! Our product boxes are crafted from Forest Stewardship Council (FSC) certified paper and printed using soy ink.
When shipping orders, we use 100% recyclable and compostable kraft paper mailers, and instead of traditional plastic bubble wrap, we opt for kraft paper for cushioning and protection.

In addition, our products are packaged in 100% recyclable containers, and we are exploring the use of post-consumer recycled (PCR) or alternative materials in the near future.
To make recycling our products easy, we've created a comprehensive recycling guide! Please refer to this guide for detailed instructions on how to recycle your Kansoskin products.

We continuously review our environmental impact and explore innovative packaging solutions available on the market.
If you have any suggestions on how we can improve our impact (or if happen to be a sustainable packaging supplier), please drop us a line and say hello at hello@kansoskin.com.
Unfortunately, selecting the most eco-friendly packaging option isn't as simple as swapping out plastic for glass.
The reality is that there are many nuances when it comes to choosing the right packaging.

While glass is a recyclable material and has eco-friendly qualities, it might not always be the most sustainable option.
Glass containers can be heavy and fragile, leading to higher fuel consumption and more waste due to breakage during shipping.

In our decision-making process, we carefully consider whether the packaging is compatible with our formulations to ensure product stability and whether it carries hidden environmental costs, such as excess water use or carbon emissions.
We also prioritise the product's safety and ease of use, especially for those with reduced dexterity. That's why we like tube containers with flip caps – easy to open with just one hand!

We're committed to making our product packaging inclusive so that our products can be accessible to as many people as possible, regardless of age, disability, gender, or other demographics.

Currently, we're using 100% recyclable plastic. For example, our Simply Better Barrier™ moisturisers come in tubes made of LDPE (4), with flip caps made of PP (5).
They are designed to be lightweight and portable, making it easy to carry and safe for use around young children.

As part of our ongoing commitment to environmental sustainability, we are actively exploring the use of post-consumer recycled (PCR) materials or alternative options for our future products.
At Kansoskin, we share the desire to offer refill options as a way to minimise packaging waste.
However, there are several factors that currently prevent us from implementing refill services, particularly due to our current size and infrastructure.

Refilling cosmetic products requires strict measures to prevent contamination, which can be more complex than the standard manufacturing and packaging processes we currently have in place.
As a small company, investing in the specialised equipment and resources needed for the refill process exceeds our current capabilities.

We want to assure you that while we may not offer refills at this time, we are continuously exploring innovative and sustainable packaging solutions that align with our values and are suitable for our scale.
As we progress on our sustainability journey, we remain open to new possibilities and will continue to find ways to reduce our environmental impact. Your understanding and support mean a lot to us.

If you have any suggestions or ideas, or if you are a sustainability professional who can offer valuable insights, please feel free to reach out to us at hello@kansoskin.com.
Thank you for being a part of our sustainability journey.